Home

All Articles

Wakeskate Guide

Discussion Forums

Features

Reviews

Trick Tips

Wakeskating History

Links

Link To Us

Wakeboarding

Wakesurfing

Wakeboards

Wakeboard Towers

Hyperlite Wakeskates

Liquid Force Wakeskates

Byerly Wakeskates

Buy Wakeboards

Ronix Wakeboards

Liquid Force Wakeboards

Buy Wakeskates

Wakeboard Towers

Wakepics

Wake Videos

Complete Longboards

Article Alert


Media Center

Pictures

Videos

Buy Wakeskate Videos


Grip Deck

Getting Up

Dock Start

Ollie

HS Wake Jump

TS Wake Jump

HS Backside 180

BS Pop Shuvit

FS Pop Shuvit

Surface 180 Shuvit

FS Bigspin

TS Shuvit to Indy

Kickflip


Advertise

Contribute Articles

Submit A Trick

Feedback Form

Visitor Feedback

About RSS
New Articles - Latest News


Added: February 6, 2014
The guys at Remote Wakeskates are having an Instagram contest to thank all of their supporters. Read on to find out how to enter...

Added: February 6, 2014
Dieter Humpsch compiled an edit with a year's worth of GoPro footage. Dieter is radical with a camera, so check it out!



Added: January 9, 2014
Here's a short edit from Project Wakeskates announcing Andrew Roehm's addition to the team.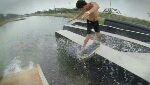 Added: January 1, 2014
Here's an edit featuring Remote Wakeskates team member Andy Kolb at the Thai Wake Park.



Added: December 28, 2013
Andrew Pastura is a member of the Leatherman sport team! Follow them on Instagram @Leathermansport, on Facebook and check out their offerings and story here.


Recent Wakeskating Videos


Wakeboards


Ronix Wakeboards


Hyperlite Wakeboards


Liquid Force Wakeboards


Slingshot Wakeboards


CWB Wakeboards


Wakeboard Bindings


Ronix Bindings


Hyperlite Bindings


Liquid Force Bindings


Slingshot Bindings


CWB Bindings


Wakeboard Packages


Wakeskates


Wakesurf Boards